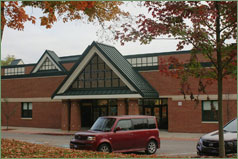 Glen Osborne Borough incorporated in 1883 is conveniently located 12 miles north-west of Pittsburgh which can be reached by car within a half an hour. It is a community of 200 homes and 600 citizens, and is a part of the Quaker Valley School District www.qvsd.org . We border the community of Sewickley which offers boutique shopping and excellent dining all within walking distance. Our secure community is a safe haven for children allowing them the freedom of walking or biking to visit friends or attend school and sporting events. We hope you find our website interesting and informative, please visit it often as updates will be frequent.




The Borough of Glen Osborne does NOT provide residential leaf pick. Residents are responsible for bagging their leaves and setting the bags out for weekly trash pick up. Or residents can have leaves hauled away or vacuumed up and removed by their choice of lawn service or private contractor. The Borough only picks up leaves on the public streets and right of ways.

2017 Waste Management Schedule with WEEKLY RECYCLING Click Here


Dedication of the Count Noble Historical Marker. A special ceremony was held on July 16, 2016, in front of Osborne Elementary School, for the installation of a historical marker commemorating the former residence of Mr. and Mrs. B. F. Wilson, owners of the famous English Setter Count Noble, and the first English Toy Spaniel registered by the American Kennel Club in 1886. In the late 1800ís the Wilsons and Count Noble lived on the property where Osborne Elementary Schoolís playing fields are located today. Local historian, Richard J. LeBeau, author of "Count Noble: The Greatest Dog that Ever Lived," invited ancestors of Mr. & Mrs. B. F. Wilson, and members of the Sewickley Valley Historical Society and the American Kennel Club to this special ceremony.


New Sewage Facilities and Beaver Road
Glen Osborne, Sewickley and Aleppo updated sewer service in the borough, with Aleppo's sewage coming through a new line down Glen Mitchell Road in Glen Osborne and treated in Sewickley. Among other things, this involved work on Glen Mitchell Road and construction of a new pump station on the other side of the railroad tracks which replaced an old pump station (which we called Pump Station #1). As a part of the project the Sewickley Water Authority connected a number of homes along Beaver Rd to its newer water line, and Beaver Road was repaved.

Glen Osborne Street Signs
New street signs have been placed along Beaver Road. The signs were designed by a local signmaker, Jeff Lang of OldLangSigns. The street names now follow PennDot regulations and the road names are now all spelled correctly. The signs were installed by John Wick. The design originated from the existing "Welcome to Glen Osborne" sign.








Borough of Glen Osborne
P.O. Box 97
Sewickley, PA 15143
Phone: 412-741-3775
Fax: 412-741-2778
Diane Vierling
Secretary Treasurer
[email protected]
Calendar of Events
All 2018 Meetings
January 16 - 7:30 pm Council Meeting
February 5 - 7:00 pm Public Safety/Services, Public Works & Finance Committee Meetings
February 20 - 7:30 pm Council Meeting
March 5 - 7:00 pm Public Safety/Services, Public Works & Finance Committee Meetings
March 20 - 7:30 pm Council Meeting
*As Needed